Coco's Blog
Shoe Of The Week Series – Heels Galore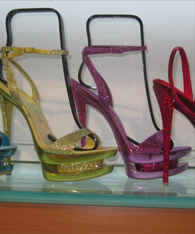 Heels Galore
If you don't know this by now you will….I have a crazy heel fetish!I'm obbsessed with wearing high heels on a daily bases. For me the higher the better and I love the pain because it brings out sexy legs and completes the outfit. Even when your not wearing anything they look wonderful! In my personal collection I have about 500 pairs shoes,boots and yes sprinkled with a little tennis shoes.I consider it jewerly for the feet,maybe because I'm short,5'2 to be exact,that I could get away with it. In this section, every week, I model a pair of heels from my shoe closet & show different angles & talk a little about them…Some will be in season while others are just so hot I have to show them off!
After Party At Reverb


Everybody come out to see Ice and I tonight Sept 25th at Reverb in Reading PA!!! I'm bringing the baby bump out tonight…LoL
Unique Pet Stylist


This post is dedicated to my friend that is a mobile pet stylist in Southern California.. I'm talking super cute from the moment she pulls up to anywhere you'd like. She can wash,brush,cute nails,clean teeth anything to get your pet cute.. She picked up Spart and Max while we lived in Vegas and she used Pet Head products on them and they didn't shed for a whole week. I highly recommend her if you live near by.. If interested call Kandace at 951-640-9321


Coco at Sunset Novelties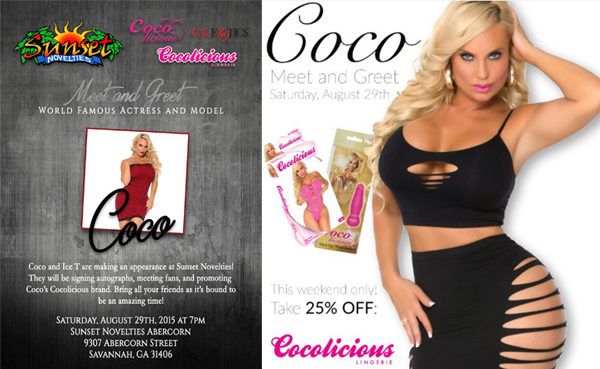 I'm Coming to Savannah GA, Aug 29th! Come meet Ice & me! We'll take pics & sign autographs! Details on flyer! I will be there promoting my CocoLicious Lingerie and Pleasure Products
Ice & Coco Talk Show Season Finale


Friday was the finale of Ice & Coco!!!! After 3 weeks of being on everyday on Fox and testing it in 8 different markets. I have a feeling that you'll be seeing it nationwide because the ratings have been awesome!! Here is the commercial for the final show!! Hope you didn't miss it! Also I hope you enjoyed Spartacus & Maximus on the show too! We tried to take the talkshow vibe to a new level with these 2…lol
Look of The Day: Ice & Coco Talk Show Ep 14
Today on Ice and Coco talk show Dress: Cache Shoes: Louboutin (23 weeks)
Close Up of Baby Chanel Nicole!


To all the non believers about me not having a baby bump. As you can see here, there really is a baby growing inside of me. I'm 5 1/2 months already due Dec. I've workout and have stayed healthy my entire life so my ab muscles are super tight and taking longer to expand.. Thanks to all the compliments comparing me to Sarah Stage (the model that had abs her entire pregnancy but had a healthy baby). Even though I would like to stay small I feel my tummy will pop sooner or later.. I may also look slimmer to you now because when I first got pregnant. I actually lost 10 pounds instead of gain. The reason, I believe, is because I stopped drinking alcohol. I would always have at least a glass of wine every night. So just recently in my 2nd trimester I finally started gaining but only 5 pounds so far. Hope this answers most of your questions…