Coco's Blog
Shoe Of The Week Series – Heels Galore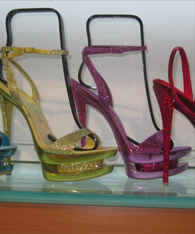 Heels Galore
If you don't know this by now you will….I have a crazy heel fetish!I'm obbsessed with wearing high heels on a daily bases. For me the higher the better and I love the pain because it brings out sexy legs and completes the outfit. Even when your not wearing anything they look wonderful! In my personal collection I have about 500 pairs shoes,boots and yes sprinkled with a little tennis shoes.I consider it jewerly for the feet,maybe because I'm short,5'2 to be exact,that I could get away with it. In this section, every week, I model a pair of heels from my shoe closet & show different angles & talk a little about them…Some will be in season while others are just so hot I have to show them off!
Halloween 2016 – Heidi Klum Party


Referee Coco ready for action! I love dressing up for Halloween and I love to dance! We did the damn thing at Heidi Klum Halloween Party!… Halloween was fun like always! Xox


UPDATE: Halloween 2014
Recap of my Halloween Costumes!!
Halloween is probably one of my favorite Holidays! Why? Because I love dressing up!!You would think after all my hundreds of photo-shoots I would have gotten sick of it by now but honestly I can't get enough.Its one time where you be super sexy you can go into public and bee someone your not and also no one looks at you oddly cuz everyone else is dressed up too!! How fun is that?Here are my outfits from the past years.One thing you probably notice is that I always wear fishnets.Its my signature piece

2006 I was some-kind of Vampire Dominatrix

2007 I was a french Maid Ice was the Greazy Billionaire,Maxmillion

2008 I was a naughty kitty and Ice was the Punisher

2009 I was a Dominatrix & Ice was a pornstar

2010 I was a nurse and Ice being a mad doctor

2011 I was Katy Perry for 1 event & an Anime Chick for the other. Ice was Pysho Inmate and the other event was a Coco stalker fan

2012 Halloween was canceled because Hurricane Sandy

2013 I was a school girl and Ice was Splinter Cell

Sometimes Ice and I host parties on Halloween and we share great fun with our celebs friends….Some recognizable faces below are NeYo, Mariah Carey, Rihanna and Vince Carter
Fans Dressed Up As Ice & Coco For Halloween
This is hysterical!! Through the years fans have emailed,Facebooked or tweeted me pics of themselves dressed up for Halloween as either me or went as Ice & I as a couple. I had to share some of them……. If you'd like to send any pics to me pass it along to any of these links….. Good job everybody your outfits look great!! (Twitter- @cocosworld) (email- cocosmailbox@gmail.com)
EPIC SATURDAYS


Ice and I will be at Harrah's resort in Atlantic City for the Pool After Dark party hope to see you there!
Kyobe Fashion Show Fashion Week 2016


So Ice and I decided to attend the Kyobe fashion show for fashion week