Shoe of the Week Series
Shoe Of The Week Series – Heels Galore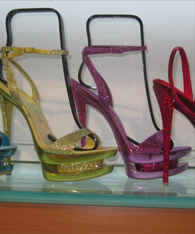 Heels Galore
If you don't know this by now you will….I have a crazy heel fetish!I'm obbsessed with wearing high heels on a daily bases. For me the higher the better and I love the pain because it brings out sexy legs and completes the outfit. Even when your not wearing anything they look wonderful! In my personal collection I have about 500 pairs shoes,boots and yes sprinkled with a little tennis shoes.I consider it jewerly for the feet,maybe because I'm short,5'2 to be exact,that I could get away with it. In this section, every week, I model a pair of heels from my shoe closet & show different angles & talk a little about them…Some will be in season while others are just so hot I have to show them off!
Mesh Louboutins
So many words that fit these elegant shoes….. Vintage, fishnet, stunning, the list goes on…. They are Louboutins of course but the style is called Salopatina's… They are very comfortable because I wore them the whole night and danced in them… lol The mesh gives it a nice sex appeal but still have a conservative look.. A must have for the old school glam look!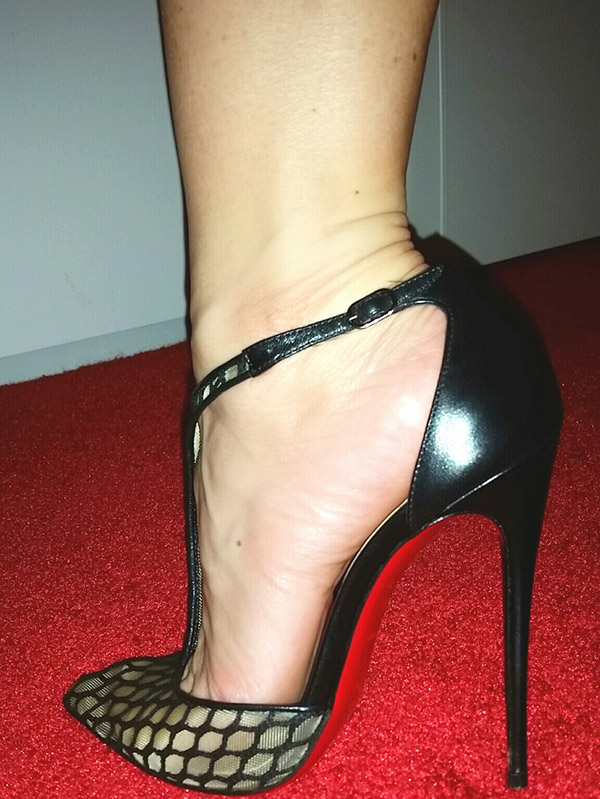 Aquarium Beauties!
You might think the title is a funny name for these shoes but thats the actuall name from them. They are Louboutins and the style are called Pigelles and the name description is AQUARIUM. They are all glitter and are SO sparkly. They are definitely for that girl that loves bling. Its hard to explain what the color is because its a mixture of mostly blue and then you have lavender, pink and gold. For me I would wear with a pastel dress.. Anything pink these would go with really well.. The fabric doesn't stretch so get a full size bigger!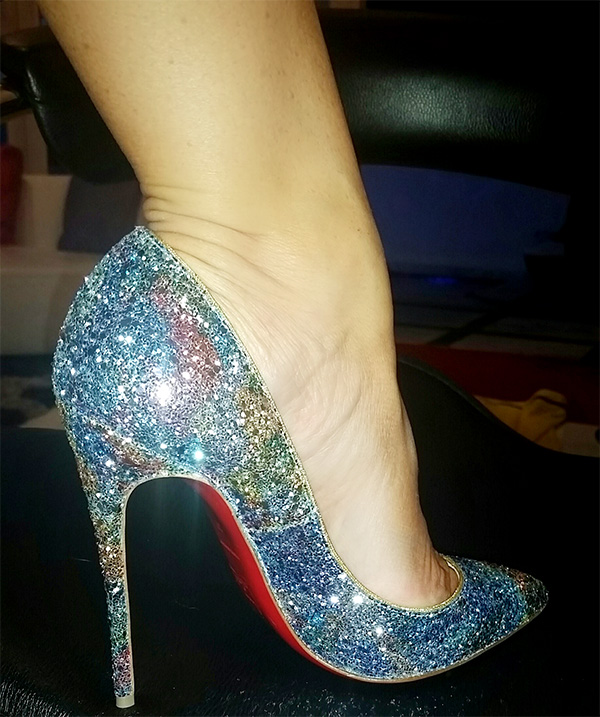 Feather Heels
These interesting looking heels are Charlotte Olympia heels. They are not for everybody but I guarantee if you see them in person you'd want them. Rainbow color feathers actually go a lot with multi colored dresses or you can just stick with a plain red outfit either way these suckers stand out..They are sky high with Charlotte's standard platform. They are comfortable but since they have a round toe your toes get cramped so they are not for an all night event.


Louboutin Booties
This is what happens when u haven't had time to do do shoe of the week so I figured I'd take a moment while on the plane and highlight these bad boys….. These leather Louboutin booties have a chrome pointed plate on the toe which gives off a cowboy vibe.. Great for a pair of leggings or a pair of jeans. Also good for walking because of the lower 4 inch heel. You just got to be onto this style.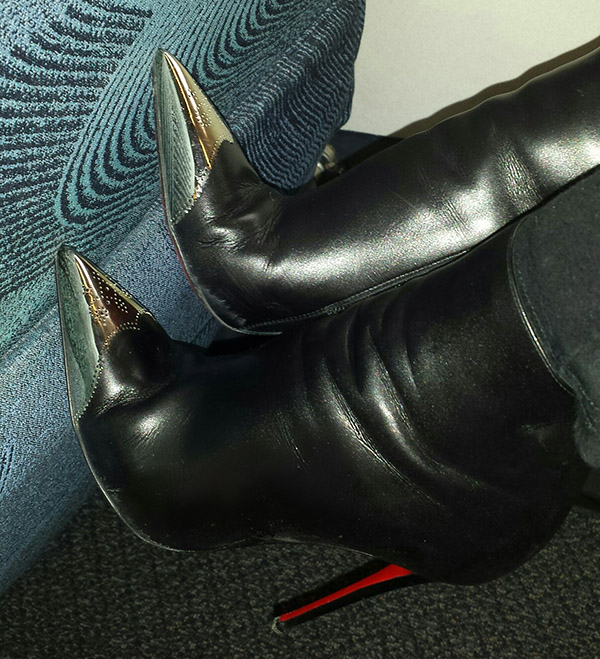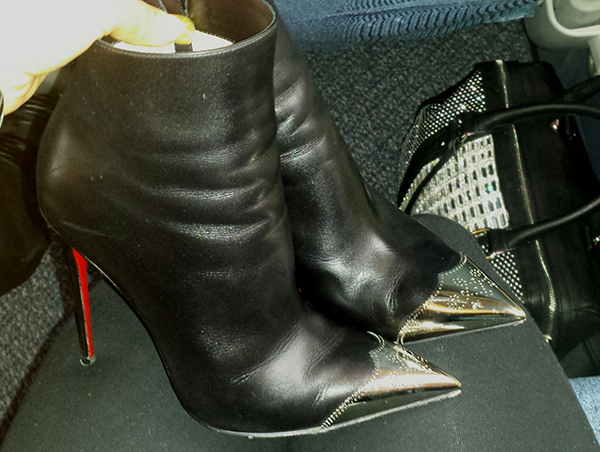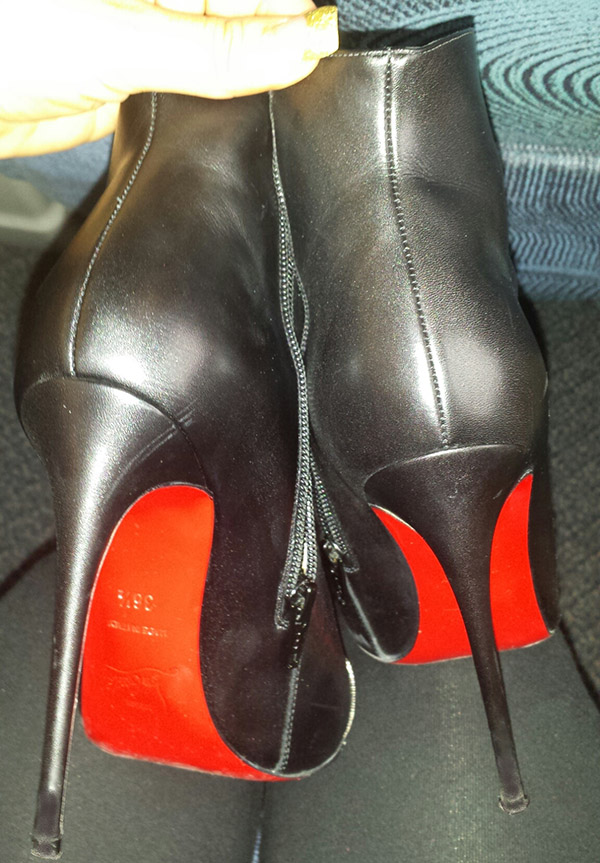 Sky-High Guiseppe
These heels don't play… This are the most "walkable" highest heels I own.. There Giuseppe Zanotti peeptoe shoes with black and white Faux snake skin.The 2 inch platforms make the heel 6 1/2 in height. I am a professional high-heel walker and I even feel a bit scared walking around the NYC streets in them.. One uneven crack in the ground I'm falling along way..LOL. But I just have to be confident and hold my head up with shoulders back thats how you overcome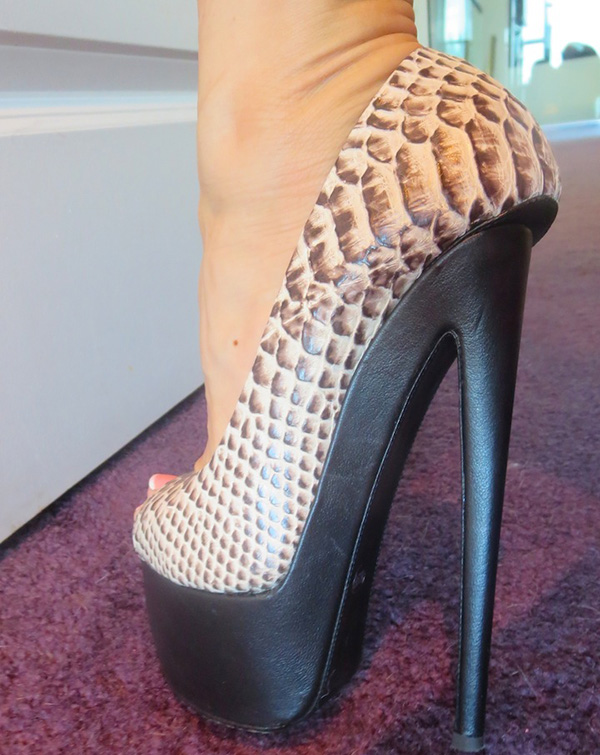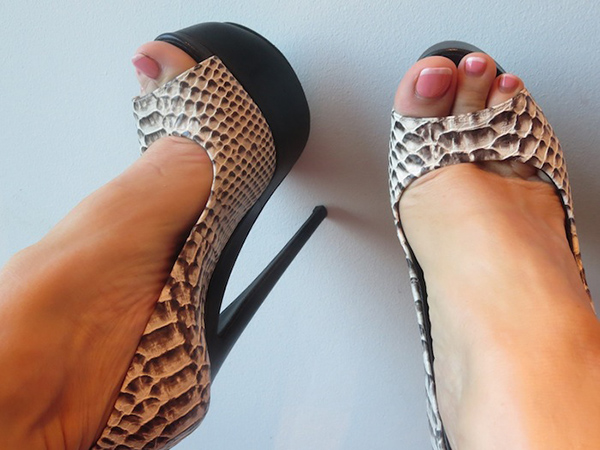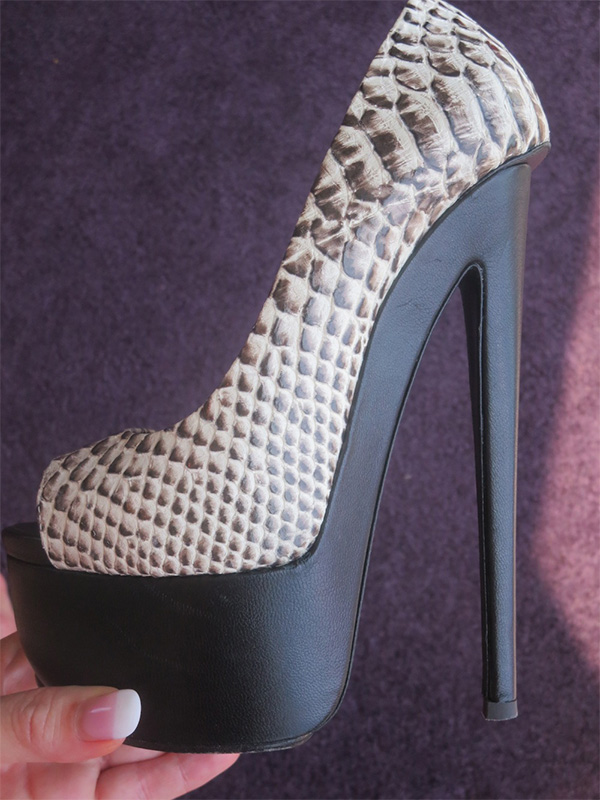 The Nudists
These are old school caged sandals from Fredricks…I have them in every color cause they're cheap (around $39) and they go with everything… They are really high without a platform which makes it tricky to walk but makes the leg sexy.