Welcome to the Coco Blog!
Welcome to the Coco Blog!!
In this blog you'll find a more indepth chat with me,everything from sexy, high, fabulous Heels to movie premieres and Events I go to.
This is also dedicated to women that love girl stuff such as, hair, skin, nails, lipgloss, make-up and of course,fitness!.
I travel a lot and meet so many exciting people and like to share my expeirences so I post a lot of photos. Feel free to roam around and check out all my links on the right of the page or here at
Coco's URLS
.
My new clothing line, called
"Licious"
is finally here. My clothes are designed for the curvy women but every body type will love it! All made here in the USA with stretchy material.
Shoe Of The Week Series – Heels Galore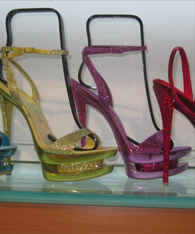 Heels Galore
If you don't know this by now you will….I have a crazy heel fetish!I'm obbsessed with wearing high heels on a daily bases. For me the higher the better and I love the pain because it brings out sexy legs and completes the outfit. Even when your not wearing anything they look wonderful! In my personal collection I have about 500 pairs shoes,boots and yes sprinkled with a little tennis shoes.I consider it jewerly for the feet,maybe because I'm short,5'2 to be exact,that I could get away with it. In this section, every week, I model a pair of heels from my shoe closet & show different angles & talk a little about them…Some will be in season while others are just so hot I have to show them off!
Coco & Baby Chanel US Weekly Magazine


Go get US Weekly Magazine out on stands now the week of December 21, 2015. They got the inside scoop on the baby bump, my weight loss and of course my precious beauty baby Chanel!
Coco Vintage New York City Magazine
New magazine out!! Vintage New York City Magazine!!! The one and only photo shoot I did showing off my baby bump for the 1st time at 7 months ..The pics are totally different from what you seen me do in the past. It definitely goes with your Coco collection with 20 photos plus a pullout poster. Ice and Spartacus & Maximus are also in it ..Go cop yours today>>> http://tinyurl.com/pvahu4g
Ice T & Coco Dub Magazine Cover


New Dub Magazine out now!! Get your copy today!! Its pretty crazy to look at this now for me because I was 5 months pregnant when we shot this!
Ice T & Coco At Harrah's Atlantic City


Guess who's coming to the Atlantic City Harrahs tomorrow, Saturday, Nov 7th? Yep!! The Ice family!! Come to #ThePoolAfterDark And yes I'm bringing the bump! Lol. Hope to see you there so we can take some pictures.
Relive The Ice & Coco Talk Show with Us


Exciting news! The Ice & Coco talk show returns on Monday November 9, 2015 for a Fall Fling. We are reliving the fun moments with you guys all over again! So if you didn't get to see the show before you can now tune in and catch up and re-live the moments with Ice and I. The show will air in 4 different markets! It will air in NYC at 12pm on PIX11, in Miami at 12pm on SFLCW, in Houston at 9am on CW39 and in Norfolk Virginia at 9am on WGNT27. I know you'll love it again so be sure to watch! Please see the flyer for more details.
"Coco" Our Cover Girl!


Vintage New York City Magazine is pleased to announce that this Winter's issue Cover Girl is Coco. We know you will be as excited to get to know this self made, hard working, glamorous, mother-to-be, as we have been. Coco grew up as Nicole Austin. But you may be surprised to know it was her younger brother, who unable to pronounce her name, called her Cole Cole which became Coco. Coco has worked very hard to make her dreams come true and with husband Ice-T, are expecting their first child together, a daughter due later this year. Coco and Ice-T are busy preparing for the arrival of their precious baby, Chanel. Coco is glamour, brains and beauty all rolled into one package. There are so many layers to share with you, of a woman many think of as a sex symbol. @coco , who thinks of herself as a wife, mother-to-be and entrepreneur is that and so much more. You will be able to read all about her soon enough. For now, we'll leave you guessing… Love,💋

Amelia Meloni Vintage NYC Magazine By: Sherry Mercer Photographer: Jason Setia