Welcome to the Coco Blog!
Welcome to the Coco Blog!!
In this blog you'll find a more indepth chat with me,everything from sexy, high, fabulous Heels to movie premieres and Events I go to.
This is also dedicated to women that love girl stuff such as, hair, skin, nails, lipgloss, make-up and of course,fitness!.
I travel a lot and meet so many exciting people and like to share my expeirences so I post a lot of photos. Feel free to roam around and check out all my links on the right of the page or here at
Coco's URLS
.
My new clothing line, called
"Licious"
is finally here. My clothes are designed for the curvy women but every body type will love it! All made here in the USA with stretchy material.
Flex Magazine On Stands Now


So a lil while back I did a photo shoot for Flex Magazine August 2013 issue and it's finally out on stands everywhere. It's a 6 page spread of me working out showing off all my lovely curves. Below is a little sneak peek, check out the video and go get your copies now. Flex Magazine!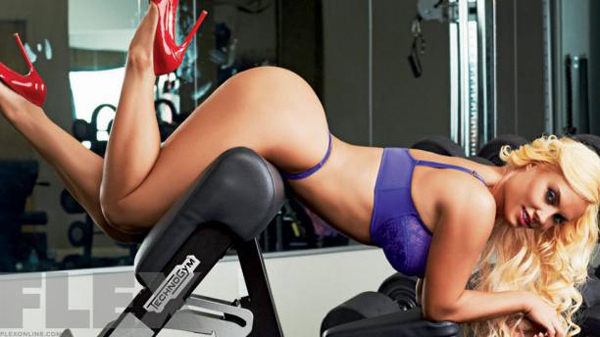 Coco on Surf Board Machine [Full speed]

People don't truly think I work hard at the gym…This is my favorite machine for toning my legs,booty and core. Its called the React Machine…. (I think this company should contact me). Twitter: @Cocosworld, Facebook: Coco, Instagram: Cocosworld
The Coco Update
Hey guys so I know I've been behind on all of my updates such as shoe of the week, my fitness tips and many of the other things that I share with you throughout the week but there's a good reason. I have been swamped with "Peep Show" and everything else in between. I've shot for Muscle and Fitness Hers/Flex Magazine, which should be on stands sometime in August…I also did my own reenactment of Ghost Stories for a show called "The Haunting Of" which will air on A&E Biography, I'll be sure to let you guys know the exact date…I've also been doing photo shoots for a lot of Las Vegas publications, press for "Peep Show" and Ice and I had friends and family in town. So between all of those things, I haven't been able to update you but now things are getting a little back to normal so my weekly updates will be coming back…Oh and soon you'll be hearing some great news from Ice and I…Stay tuned.
Ice and I on Conan


Check out Ice and I on Conan we talk about how Ice used magic tricks to court me up when we first met, we talk about my booty as always, how I get my sexy abs with pole fitness and of course Peep Show!!.
My First Time Tapping A Keg at Hofbrauhaus Las Vegas
So I was invited to Hofbrauhaus in Las Vegas to tap the keg which is basically breaking in a new spot…I never done something like this before so it was kind of different but fun. Check out the pics below.
On Set for "Think Like A Man Too"

This is me on the set of "Think Like A Man Too" with Kevin Hart and Romany Malco. It was so much fun shooting this I can't wait for you guys to actually see my cameo when it comes out. I played a Vegas burlesque dancer…sort of similar to my role at peep show. I'll let you guys know when the movie is in theaters.
What's On Magazine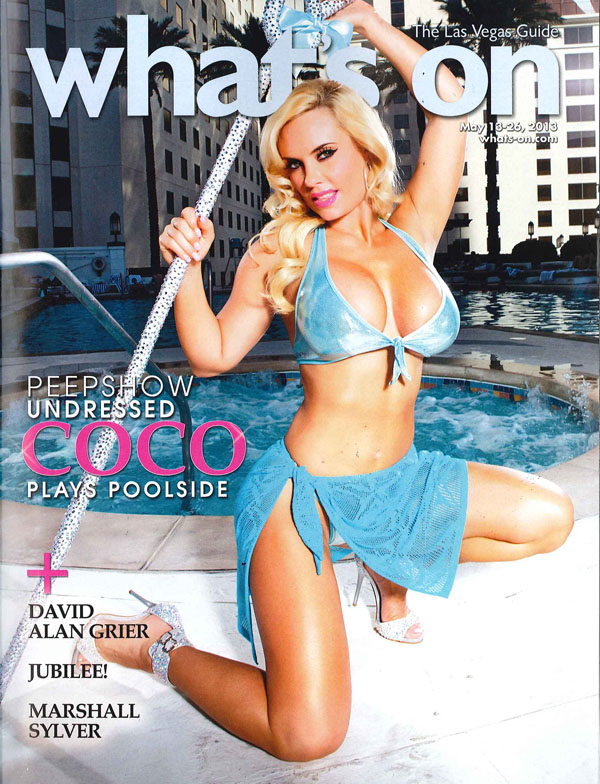 Get your copy of What's On Magazine… Your Vegas guide to PeepShow girls chill in there swimsuits! Also hear about the Coco's extension with her show to Sept 1st